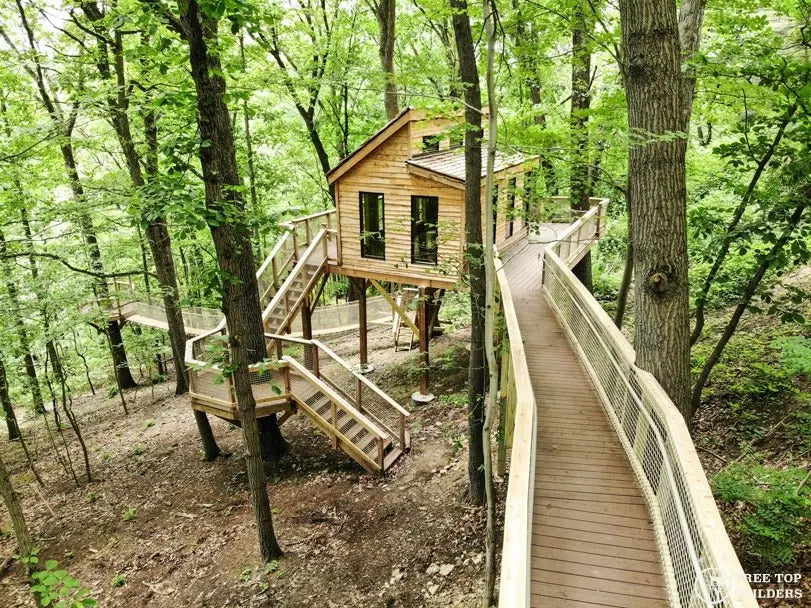 The Future of the Treehouse Industry
The Standard for Treehouses
The treehouse industry has grown exponentially over the past several years. With the arrival of COVID-19, many individuals were looking for alternatives to their yearly vacations and found treehouses to be the perfect solution. What better way to relax, save money and stay safe than with a backyard treehouse oasis. Growing up, one might remember wanting a pretty standard backyard treehouse to create memories in? Although they are still around, treehouses have grown in size, complexity, and in unthinkable, creative ways!
New and Exciting Advancements to the Treehouse Industry
No longer are the days when treehouses were just a place to spend a few hours during the day having fun. Advancements in treehouse building technology have helped carpenters build what seemed impossible at one point! Today individuals are living, vacationing, eating delicious meals, and even learning in treehouses! Treehouse living is the perfect situation for anyone who loves nature or wants to have the most unique house on the market. We've seen 2-level treehouse homes, homes with elevators, indoor plumbing, entertainment systems, and more. When it comes to fine dining, nothing screams lavish like a meal in the trees. Imagine the beautiful views around you as you enjoy delicious food from your newest favorite treetop restaurant. Due to the pandemic, many school districts began looking for ways for kids to learn in the open air while transitioning from remote learning to in-person learning. As a result, school districts have started building treehouse learning spaces on their school grounds.
What We Can Do For You
The possibilities for the treehouse world are endless and will continue to grow for years to come, and at Tree Top Builders, we are always ready for the challenge. Are you thinking about building your unique treehouse? We can help! Check out our online portfolio today to see some of the incredible work we've done before. Can't find any example of what you want to build? No worries, we'd love to help you! Call us at 610-696-1066 or email us at info@treetopbuilders.net to talk to a member of our sales staff who would love to help you make this summer the best one yet!