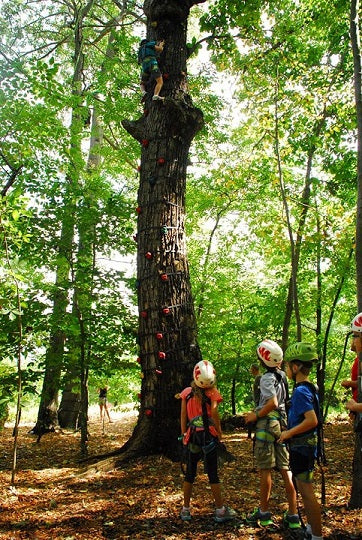 Go Climb a Tree with Our New Backyard Tree Climber
The Tree Climber by Tree Top Builders is a great way to attract kids of all ages to your yard. It can function as a climbing wall to access a tree house, or as a stand-alone activity.
Either way, it is eye-catching, fun, and unique. It is a huge hit for parties and gatherings and works for adults and kids alike.
Tree climbing with a belay system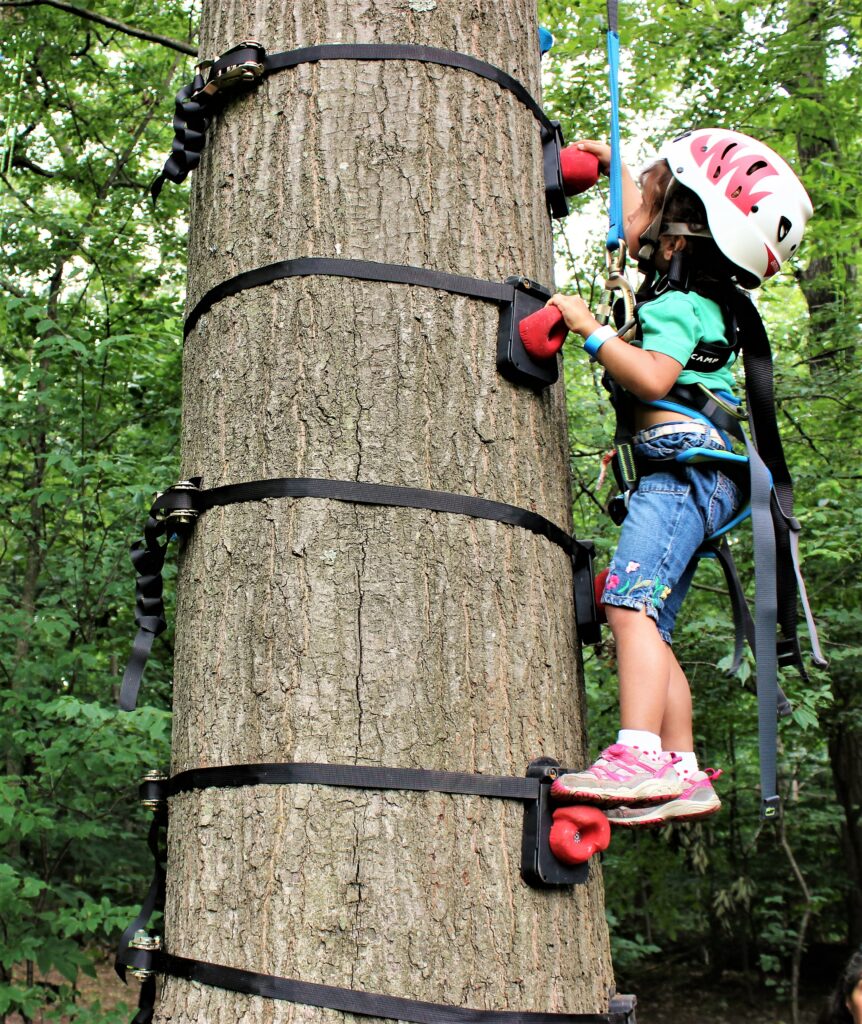 WHAT TYPES OF TREES CAN THE BACKYARD TREE CLIMBER WORK BEST WITH?
Most large trees are candidates. We will make sure that your tree is suitable before making your deposit. Here are some basic tree qualifications:
Tree Diameter: At least 12" diameter at the top of the climb. No more than 40" diameter (125" circumference) at the base where you want the first rock to be set.
Height: The descent device must be mounted between 12' and 65' high.
Trees with thick, rugged bark work the best.
Trees that are healthy, have good structure, and no overhead dead limbs are best. Our staff can prune dead branches during installation.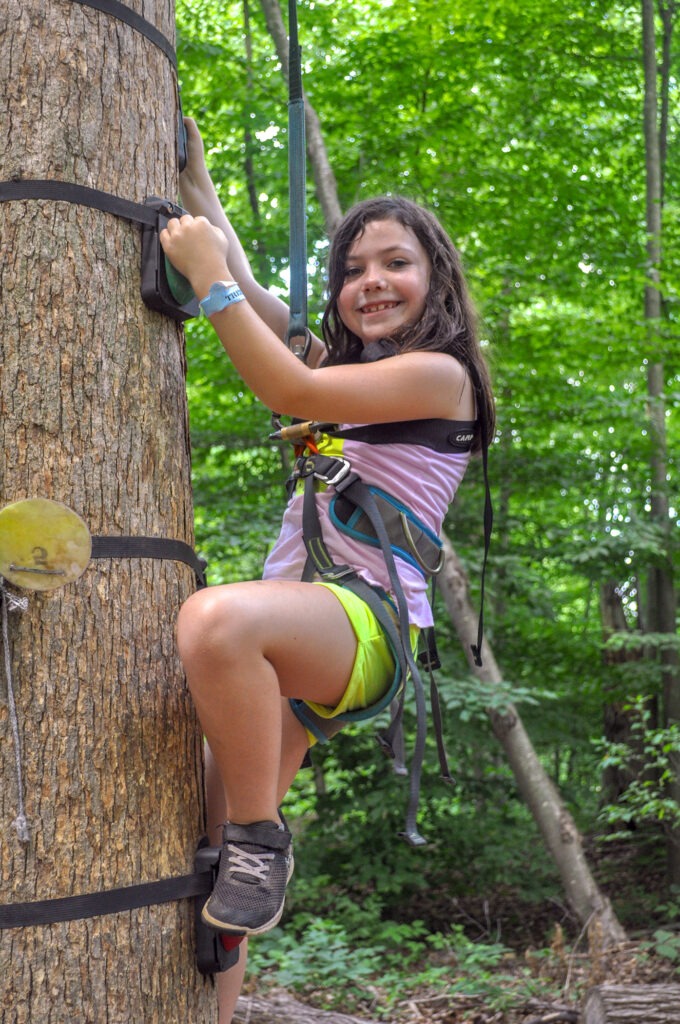 INSTALLATION PROCESS
Our lead installers are ISA Certified Arborists who will help you choose the best trees in your yard for the activity. Once we meet up, choose a tree, select the height and rock packages, then we can offer you a quote that includes all labor and materials for the project.
We will then ask for a deposit to special order the equipment which usually takes 2-4 weeks to arrive, and shortly afterward we will schedule the installation with you on a convenient day. During or after the installation, we will meet with you to explain how to wear climbing harnesses, inspect the activity for safety, and make sure to answer all questions.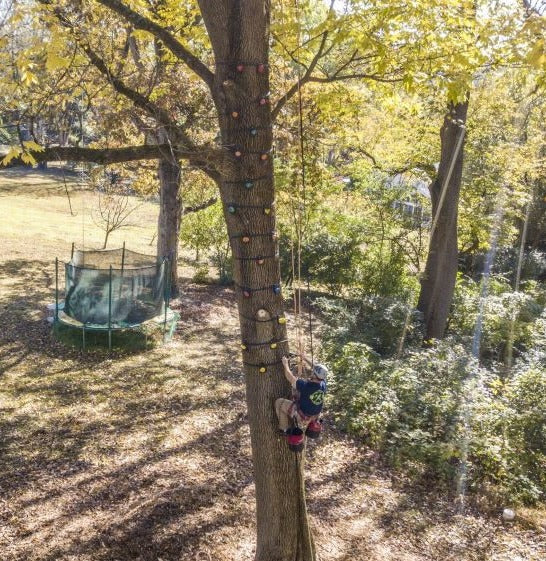 Meet your new Belayer
We install a belay device at the top of the route which lowers you automatically should you lose your grip on the tree and rocks. These devices are in use all over the world at climbing gyms and at Treehouse World in West Chester, PA.
They are consistent and reliable, as long as you wear the harness correctly and follow all inspection and maintenance procedures, it is a reliable climbing partner.
Younger kids will need adult supervision, but once you trust that your kids know how to use the equipment, you can let them use it alone. It's recommended to train and/or supervise any guests until you trust that they know how to operate it.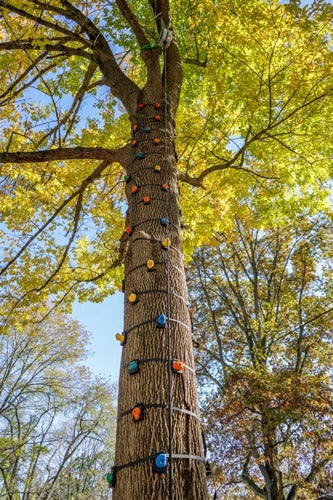 The Rocks - Just Like a Rock Wall
Each rock is installed with a custom ratchet strap. They generally do no damage to the trees but should be checked once per year and adjusted if necessary. Our expert installers know the types of trees that work best and which parts of the tree are least likely to create any issues for tree growth over time.
The rocks are installed at intervals according to the challenge level that works best for you. They can be closer together or further apart. You can have 1 or 2 rocks on each strap or alternate. The rocks can be adjusted or moved anytime by releasing the ratchet strap in the back and retightening in a different spot. The rocks are available in 7 colors, some bright and others that blend in.
We'll be happy to discuss your project with you, so please contact us and we'll do our best to answer your questions.
Call us @ 610-696-1066 or email treedesk@treetopbuilders.net
Tree Climber FAQ
Are there any registration requirements?

For a backyard installation, there are no regulations that apply to this activity. We still strongly advise you to comply with the inspections & recertifications required by the manufacturer of the belay device.

For a commercial installation, there may be requirements to register the Tree Climber, with specific steps needed depending on state-level jurisdiction. In Pennsylvania, any use of this activity that is open to the public is going to be considered an amusement ride and it will need to be registered. There is some grey area in the middle, but so you're not sure, please describe your situation and we'll help you figure out whether or not you need to register it. If you do need to register it, then we can help you with the paperwork and registration, but plan to allow us sufficient time to work with the state and extra budget to compensate us for handling it for you – it will take more work to register it than to install it. Treehouse World, in West Chester, PA, has tree-climbing installed on 7 trees and there it is a state registered amusement ride.
How much does it cost?

The price starts at $7500 and goes up to approximately $12,000. The cost is based on the difficulty of the installation, the height above ground, # of straps & rocks used and location. Discounts available for multiple trees on the same location installed at the same time. Commercial installations and locations far enough away to require overnight stays will be higher but still in line with additional actual costs.
How do you inspect or recertify it?

There are some safety checks you should perform each day that you use the Tree Climber. These are simple and only take about a minute. In addition, the descent device needs to have a 6-month inspection which you can perform yourself or hire us to do. Lastly, there is also a requirement by the manufacturer to send the device to their facility for a complete internal inspection every 12 months. You can do this or hire us to handle this for you. We will supply literature to explain all of this during your orientation with us.
Do the rocks hurt the tree?

The rocks have no noticeable effect on the tree, but some attention needs to be paid to the effect of the ratchet straps. The straps have to be tight around the tree to work properly. As the tree grows, it may have to be adjusted from year to year. Our experience has taught us that more thick barked trees are okay with minimal adjustments every 2-3 years. On thin bark trees, adjustments need to be more frequent. On all trees, straps through a crotch or fork of a tree/branch union are particularly susceptible to girdling the tree and should be avoided. When necessary to put a strap there, it should be checked more than once a year.
Can you adjust the rocks for me?

Yes. If you ask us to move a few rocks during installation or during a regularly scheduled inspection, then there is no extra charge to adjust the route. There is a fee-based on our time (travel + work) for a separate trip to your property to make adjustments, but we're happy to do it either way.
Can the Tree Climber be combined with a zipline / treehouse or other feature?

We have some combination projects and they are a lot of fun. Ziplines and Treehouses have their own set of feasibility requirements, so we'll take a look at your site, listen to what your goals are, and help come up with the best possible plan.
Can we use a Self-Belay or Partner-Belay instead of the automatic belayer?

We will consider this on a case by case basis. We are trying to leave our clients with an activity that is user-friendly and requires as little training as possible. Self-belays are difficult to set up because climbers will need both hands to hold the rocks, so they may not take up slack properly. Partner belays are better but that requires a trained person on the ground, and more knots and connections are required. With the auto-belay, you don't need to know any knots, you just put the harness on correctly, clip the carabiner onto the harness, and go. There are pros and cons, and if you want to consider other options, then we will discuss it with you and get you the best solution for your needs.