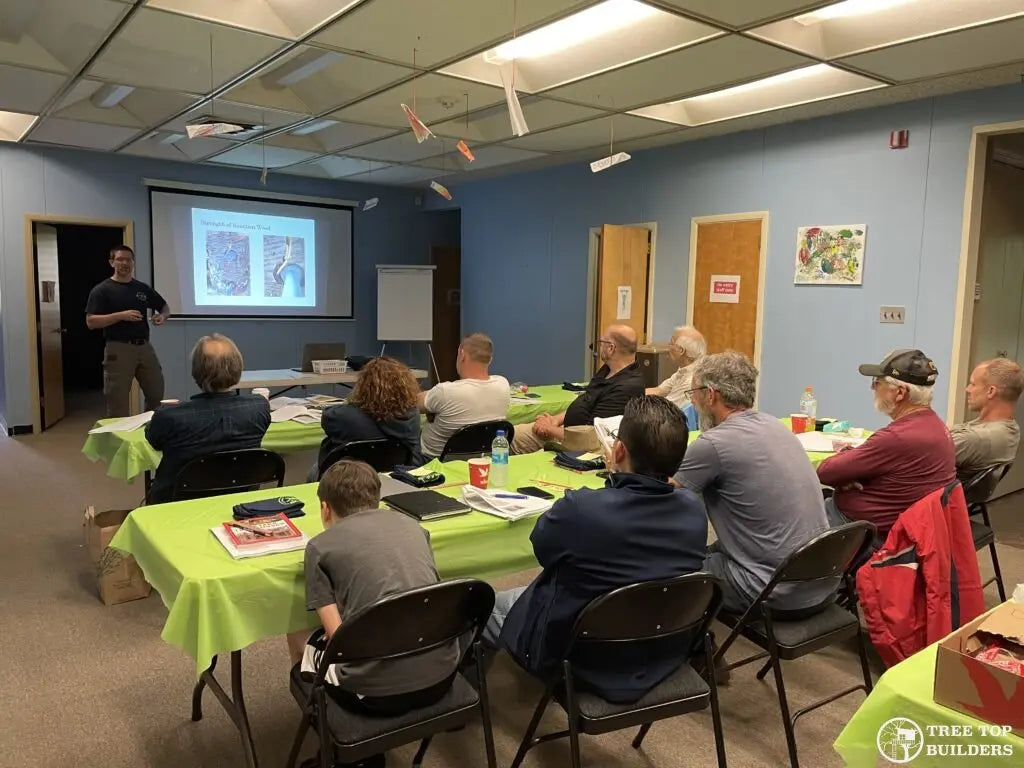 Tree Top Builders Spring Workshop
Have you ever wanted to build your own treehouse but wanted a proper education first before doing so? Then, the Tree Top Builders Annual Spring and Fall workshops are the perfect place to do so. Visitors traveled to Treehouse World, to take part in a weekend-long, hands-on seminar, learning about building high-quality and tree-safe treehouses. On May 14th and 15th, guests and professionals were welcomed back for another great year of education and building.
In this year's workshop, attendees had a full itinerary. On the first day of the seminar, guests were taught the foundations for building treehouses. Dan Wright, the owner, presented his knowledge of tree biology. Guests were taught about the parts of the tree and how they grow. He also shared his vast knowledge on tree condition & suitability for a treehouse as well as the natural responses of trees to change. Next, Joe Salius, General Manager of Tree Top Builders, spoke about Treehouse Attachment Bolts & Theories of Attachments. For example, he shared his knowledge as to what type of bolts there are, what builds they work best with, and how to apply them properly. Lastly, Scott Mackenzie of Treehouse Supplies shared his knowledge of Treehouse Layout & Design. Within his presentation, he walked our attendees through the process of how to plan the project, measure the site, and the types of plans Treehouse Supplies currently sells. After the classroom presentation, guests toured the park and worked with our team of carpenters, Dan, and Joe to plan the building of a treehouse.
On Sunday, guests and staff woke up bright and early to put their knowledge to the test. The attendees worked alongside our trained carpenters to learn how to build a treehouse from scratch as the newest addition to Treehouse World's adventure park. Guests walked away from the workshop with the knowledge needed to design their treehouse, the skills required to build it safely and securely, and the satisfaction that countless children would enjoy their masterpieces.
If you are interested in being a part of our fall workshop on September 17th and 18th, 2022, head over to TreehouseWorld.com/workshop! to learn more about our workshops. Also, keep an eye on our social media for updates on any future events and workshops we host! Happy Building!