Treehouse in Paradise
More About This Treehouse:
Our client wanted the Treehouse in Paradise as a getaway spot for their teenager entertaining friends by the pool. Palm trees are not suitable for treehouses, so we used metal supports and built the home near them instead.
Unique Features:
We found some unique and exciting materials to give this treehouse extra character. The countertop is a live edge spalted maple piece from a local hardwoods supplier. Some smaller parts of matching maple were fashioned into corner shelves and side tables. The rope trim fits right in near the pool. We sourced some reclaimed barn siding for the exterior of the treehouse. We love the sliding barn door inside and the skylight.
Plumbing and Electric Options for Treehouses:
Our client wanted a complete steam shower to make their guests feel like they're at a spa. This location could not accommodate sewage lines, so we installed an incinerating plumbing system and stocked it with biodegradable products. For the electrical plan, we used a bronze finish on all fixtures to tie in with the doors and windows. The bathroom and kitchen have area lights, the ceiling fan has a room light, and outdoor lights guide your way after a swim.
How Much Does the Treehouse in Paradise Cost?
While treehouse costs vary greatly and each project is unique, we understand your need to have some idea of what each project in our portfolio would cost to build. Someone from our amazing sales team would love to help answer any of your questions and help you start making the first steps to owning your treehouse! Please click this link to our contact form and one of our sales members will follow up with you!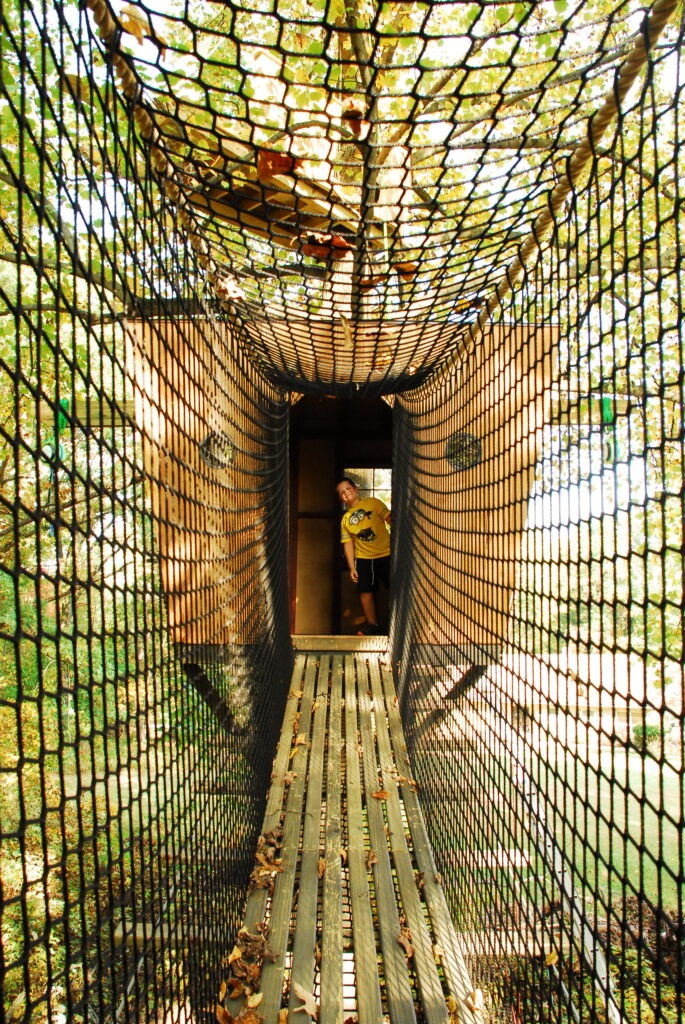 OUR TREE HOUSE PORTFOLIO
Discover Endless Possibilities
Our Tree House Portfolio has six styles of treehouse projects to choose from. View some of the fantastic builds we have worked on over the years that might fit what you might be looking for!
view portfolio