Museum of Life and Science
The Treehouse Project at the Museum of Life and Science, Durham, NC, involved a great team of designers, contractors, and museum staff over two years. The team effort paid off as the eight treehouses, nine tree bridges, various slides, walkways, nets, perches, lookouts, and other creative features make it one of the most fantastic treehouses exhibits in the country. As a result, museum attendance has set new records, and the museum decided to phase in the marketing and promotion of the project so that everybody didn't come all at once, which, I think you'll agree, is an excellent problem to have.
Commercial Treehouse Design Process:
When the museum was still in the early planning stages, we were invited down to assess the feasibility of building in the stand of Loblolly Pine and to discuss initial conceptual plans. The museum hired an abstract design firm in their network to create a 3D scale model, which we stuck reasonably close to during the process. We made the treehouses' multi-angled walls angular instead of curved for labor cost reduction. Any carpenter will tell you that rounded shapes take longer to build. But the look and feel are quite similar to the original. Once the concept was completed, we entered the engineering or structural design phase. After that, the custom tree attachment bolts and hardware were produced, installed, tested, and plans were made to complete the construction after the trees had one growing season to recover from the bolt installation.
Construction Team for the Hideaway Woods Treehouse Project:
Tree Top Builders made several trips to the site to build and provide construction management for the project. Several contractors from North Carolina contributed to the wall and siding carpentry and some of the finishing details, like the slide and stairs. Some exceptionally talented museum staff and local contractors helped with the details and customization toward the end of the project, including the railing fill and ground-supported accessible gangway. We can provide complete, turn-key service but are also willing to work with clients with labor resources available in their local markets.
How Much Does this Tree House Cost?
While treehouse costs vary greatly and each project is unique, we understand your need to have some idea of what each project in our portfolio would cost to build. Someone from our amazing sales team would love to help answer any of your questions and help you start making the first steps to owning your treehouse! Please click this link to our contact form and one of our sales members will follow up with you!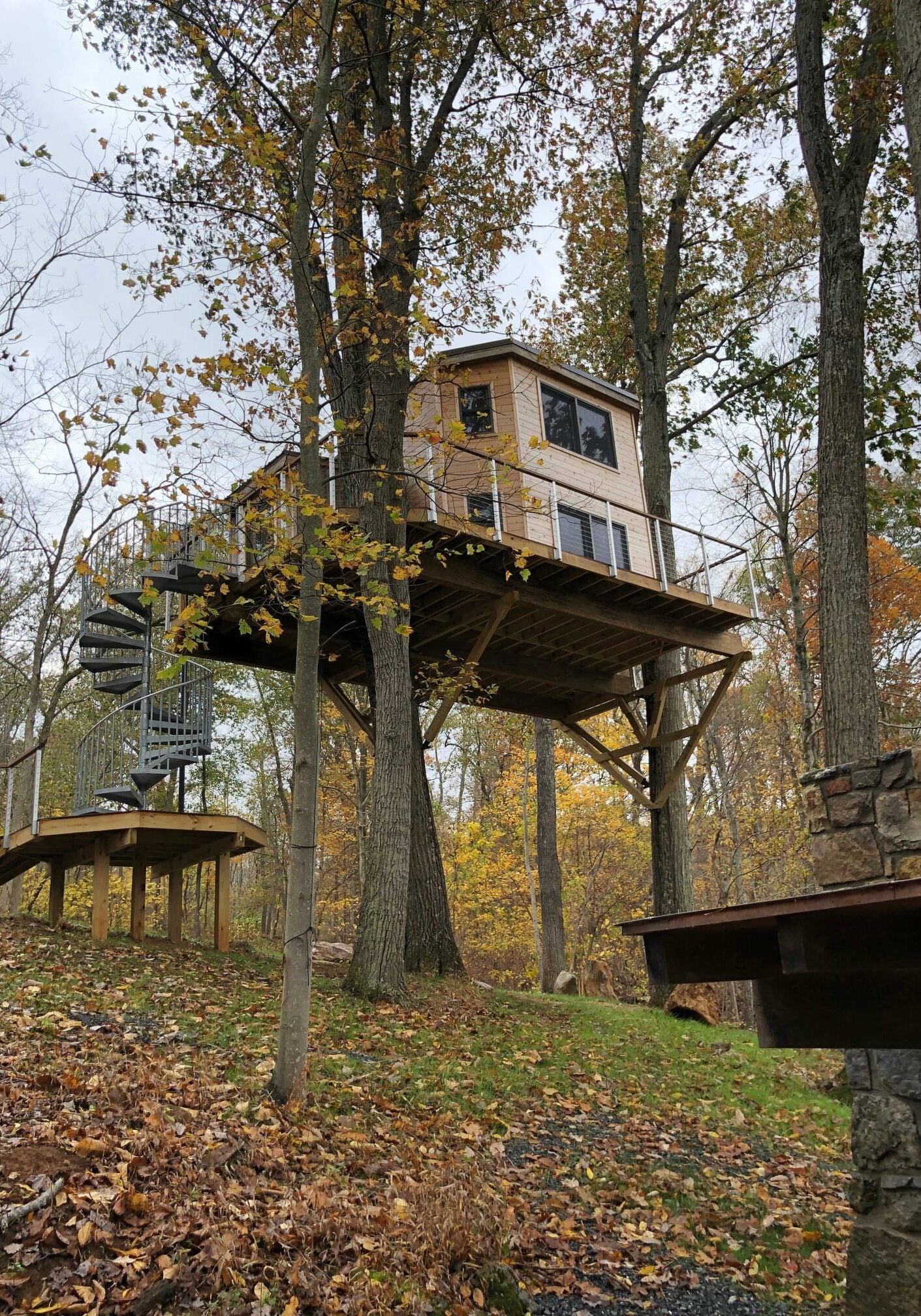 OUR TREE HOUSE PORTFOLIO
Discover Endless Possibilities
Our Tree House Portfolio has six styles of treehouse projects to choose from. View some of the fantastic builds we have worked on over the years that might fit what you might be looking for!
VIEW PORTFOLIO