Backyard Pirate Ship Treehouse
Ahoy Mateys! Set sail on the adventure of a lifetime with our newest backyard pirate ship treehouse build! S.S Caruthers is the perfect example of how nature meets adventure. Read on to learn more about the inspiration behind this playscape treehouse! 
Design of the Pirate Ship Treehouse
The inspiration for this build came from a mind of a seven-year-old! Ben Caruthers loves pirates, so when his mom sent us a drawing he'd made of a pirate ship, the TTB team went into action to make his dream a reality. Paul Gifford, resident builder and designer at TTB turned Ben's concept sketch into a computer model that we used to show the Caruthers family what their ship would look like. It also ensured that we were able to re-create a very complex, unconventional structure efficiently and accurately, using only photos of the trees that the Caruthers family had sent to us (three tall oak trees in a straight line, forming perfect masts for the ship)
We used actual shipbuilding techniques, along with specialized Treehouse Supplies hardware, to create the frame of the ship-the "ribs" hung between the trees provided the structure of the hull and the framework for the upper and lower decks.
Secure the rigging and batten down the hatches! The nautical theme continued with the main access to the ship being a cargo net and a trapdoor to the smuggler's hold below decks.
Adventure awaits! Escape hatches, porthole windows, a 25-foot high crow's nest, a 15-foot fireman's pole, water cannons, and a jaunty Jolly Roger flying from the main mast invite the pirate crew to embark on endless voyages of imagination. A unique net hammock area in the bow allows young buccaneers (or aspiring mermaids) to keep a sharp lookout or lounge comfortably.
We finished the build while the Caruthers family was on vacation in Hawaii…knowing the ship was ready to set sail, Ben could hardly wait to leave the island paradise to return to Michigan! What he didn't know was that Skeleton Pirate Tim was guarding his treasure hoard in the hold, waiting to be discovered. (We heard from the family that Ben now goes out to say goodnight to him before bedtime every evening.)
This job represents why the crew came to TTB in the first place: to ignite the joy, excitement, and sense of adventure of tree-borne living by bringing our client's creative ideas and dreams to life! It showcases the heart and soul of our company, combining safety, innovation, functionality, and just sheer fun.
It would not have been possible without the incredible support of the Caruthers family, who took good care of our crew, and even pitched in to lend a hand during a full-on snowstorm!
How Much Does this Treehouse Cost?
While treehouse costs vary greatly and each project is unique, we understand your need to know what each project in our portfolio would cost to build. Someone from our amazing sales team would love to help answer any of your questions and help you start making the first steps to owning your treehouse! Please click this link to our contact form, and one of our sales members will follow up with you!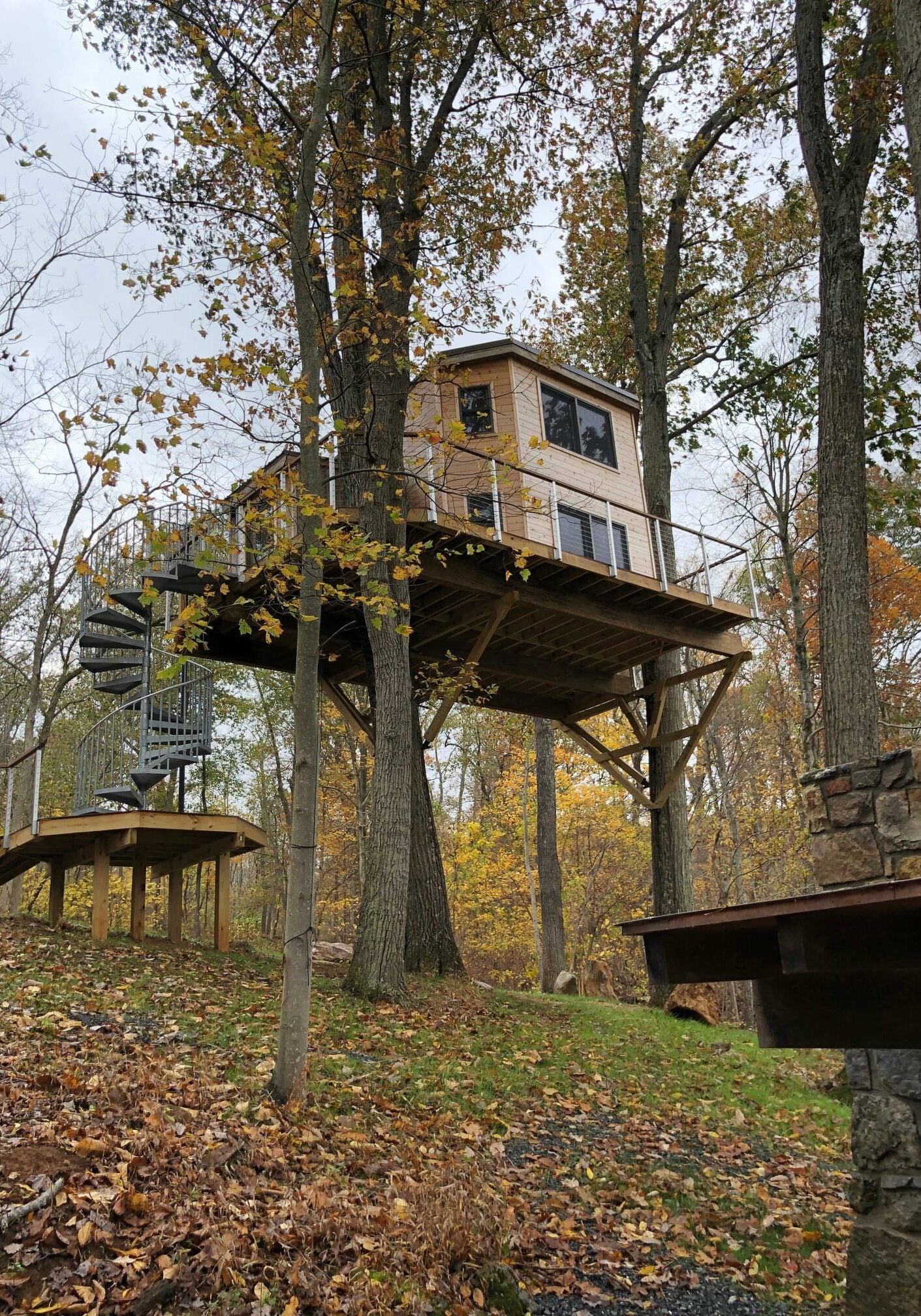 OUR TREE HOUSE PORTFOLIO
Discover Endless Possibilities
Our Tree House Portfolio has six styles of treehouse projects to choose from. View some of the fantastic builds we have worked on over the years that might fit what you might be looking for!
VIEW PORTFOLIO