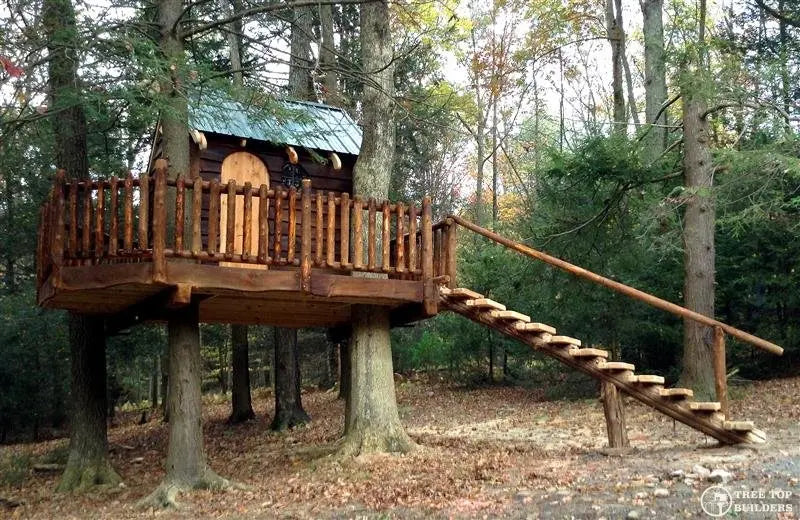 Interesting Materials for Tree Houses
Question from Bill, Gloversville, NY "Where can I find materials for my tree house? What do you suggest for roofing and siding?..." Well, Bill, part of the fun in building tree houses is using some materials that you find yourself in your local area. Many simple kids tree houses use materials right off the shelf, such as pressure treated wood, T 1-11 siding, and a corrugated or asphalt shingle roof. These materials keep the cost of the tree houses down where more people can afford them. But, since you are building your tree house yourself and presumably not paying for any labor, then I'll assume you have more time & money to track down some interesting materials. Here are a few products for you to consider as a starting point for choosing roofing & siding materials.
- 
T1-11 is strong, affordable, and takes stain well. It is much easier to stain before installing the sheets, and looks pretty decent if you put trim on the corners, rakes, & fasciae
- 
clear roofing is usually for greenhouses, but was chosen here so the red leaves would always be visible. Other corrugated roofing materials come in different colors, or sheet metal is yet another option.
- 
Adirondack siding is rough sawn, which is less expensive and has a rustic uneven look. It also looks great with a cedar shake roof. You can get reused windows, custom-designed pieces, or just staple screen over openings if you want to keep it simple.
Don't forget to use your imagination with materials for tree houses. Find locally available materials, recycled materials, or home-made materials. If any of you readers come up with unique designs or materials for your tree houses, then please send me pictures. I may even feature your tree house in my next tree house book! Happy treehouse building and materials selecting! -Dan