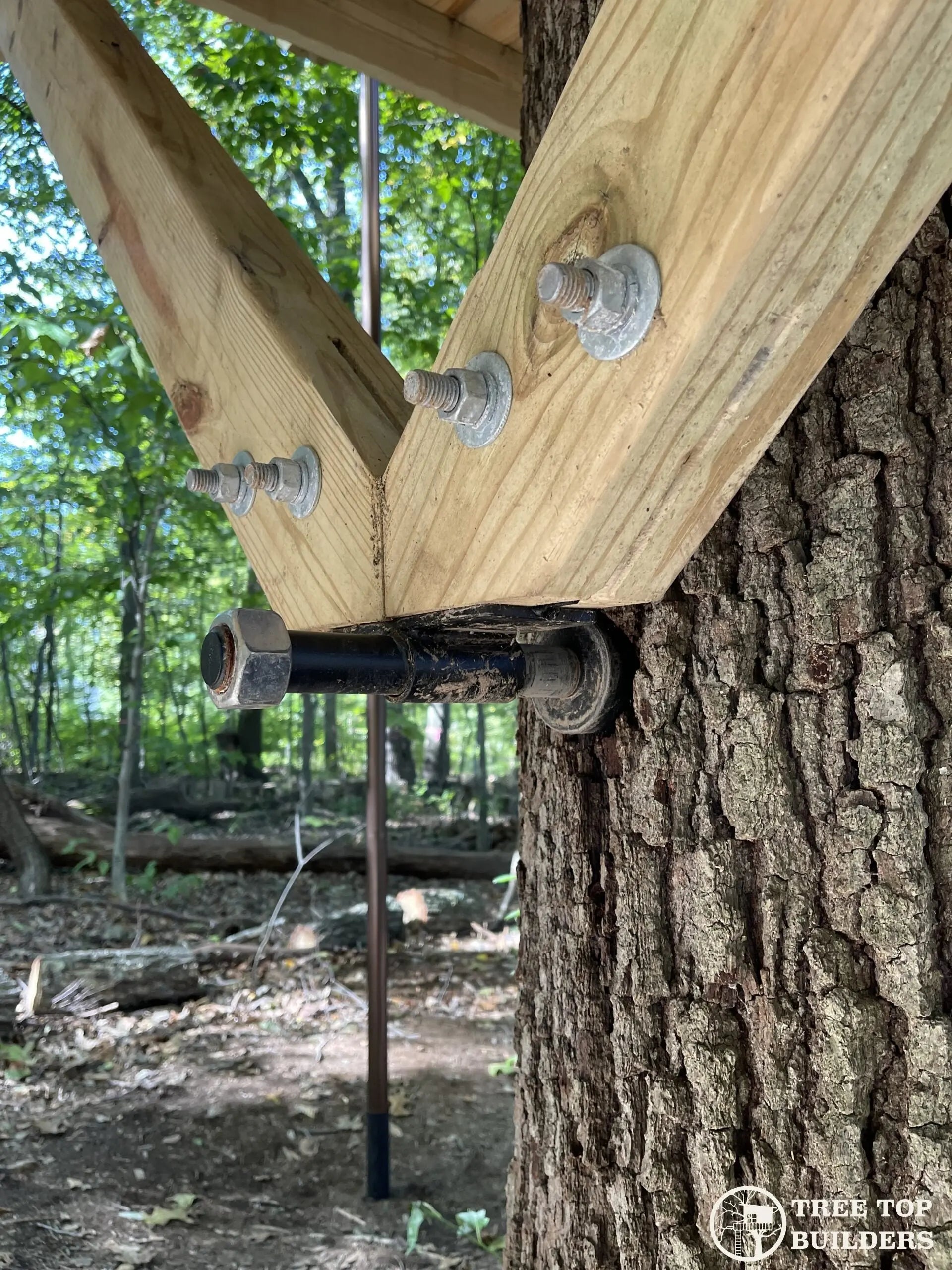 A Closer Look: Understanding Hardware
The Durability of Your Build
You've just secured your first treehouse build; how exciting! At Tree Top Builders, we handle all the hard stuff, so you can sit back, relax, and enjoy the building process. Were you looking to be more involved with your backyard build? We can help you with that! As a future treehouse owner, it's always a great idea to learn all there is to know about your treehouse! Today's blog post will cover the hardware that helps keep your treehouse thriving for years to come!
What Our Hardware Does
Various pieces go into a treehouse which helps to keep it durable for years to come. Some of the most well-known pieces include Lag Bolts and Treehouse Attachment Bolts. Lag Bolts are some of the toughest types of screws out there. They are generally used to connect heavy lumber and other materials to trees in applications that have a horizontal component to the load. Some examples of lag bolt applications are securing knee braces (diagonal supports) and cable hangers to trees.
Treehouse Attachment Bolts, or TABs, are one of the most important structural elements of the build. They work as "artificial" tree limbs and carry vertical loads similar to how trees support weight naturally. Our TABs have 3" diameter high-strength steel collars that distribute the vertical forces they carry over a large area of tree fibers. This allows them to support extremely large loads. Our standard line of TABs also has 1.25" diameter perches that allow loads to be placed a range of distances from the tree itself, allowing the tree to grow for many years without contacting any of the treehouse structural supports, which ensures the long-term health of the tree. The amazing thing about this system is that the connections actually get stronger over time, as the tree adds new growth around the TAB, increasing the engaged surface area of the wood fibers surrounding and supporting it.
Mastering the Treehouse Basics
Now you're on your way to becoming a treehouse pro! Understanding your build will help you be proactive in taking care of it in the future. When our carpenters are working on your build, stop by and see our hardware in action! Know of someone looking to build their treehouse? Tell them to head over to our sister company, Treehouse Supplies, to get all the supplies they will need for their DIY treehouse!