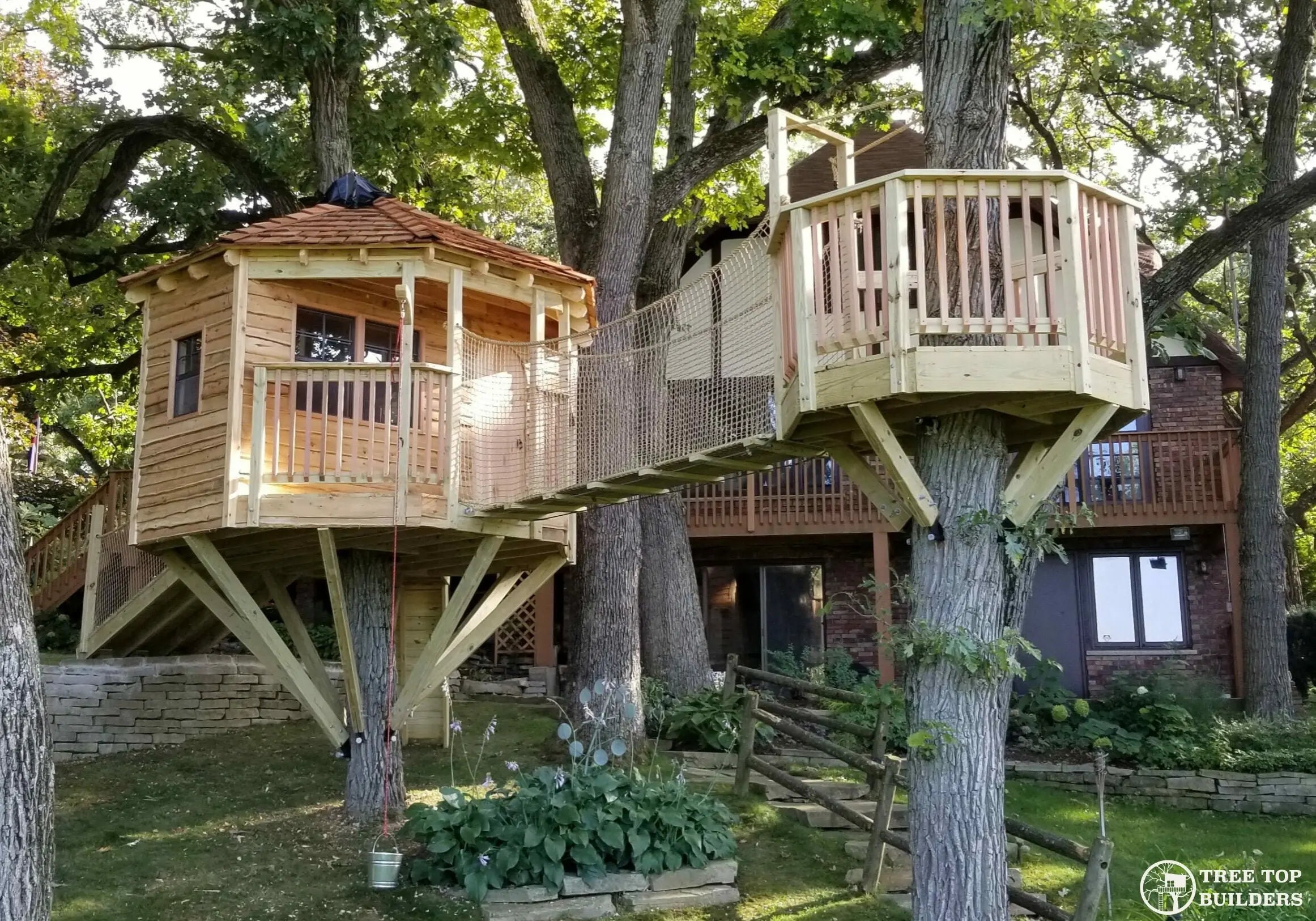 Advanced Custom Builds VS. Rental Retreat Treehouses
The Difference Between Treehouses
The Advanced Custom Build VS. The Rental Retreat Treehouses
We've Built Them All
Custom treehouses, ziplines, and other tree-attachable features are our areas of expertise at Tree Top Builders. We are often asked, "What makes a certain type of treehouse different from the other?" after looking at our portfolio. It can be difficult to build a treehouse, especially if you need to know where to begin. Thankfully, the crew at Tree Top Builders is ready to help you at each stage of the process. This week's blog post will highlight the difference between our Advanced Custom Builds and our Rental Retreat Style Treehouses.
The Difference Between Advanced Custom Builds and Rental Retreat Treehouses
Some of our Advanced Custom Builds and our Rental Retreat Style Treehouses may look similar in structure but differ in other aspects. Our Advanced Custom Treehouses can include multiple levels, premium materials, slightly more complicated designs, and a polished outside look. Except in camping-style accommodations, these constructions are not intended for commercial or nightly use. Our advanced custom-built treehouses are more elaborate than our custom backyard builds, but not as elaborate as our rental treehouses.
As for the Rental Retreat Style Treehouses, these take our Advanced Custom Builds and bring them up a notch! For luxury accommodations or tiny home living, our Rental Retreat Style Treehouses are more extensive, have bathrooms and kitchens, and are often booked solid 6-9 months in advance. Rental and Retreat Treehouses tend to have square footage and more amenities to make them more comfortable for guests to spread out and stay a while. Instead of cargo nets, slides, and fireman's poles, these tend to have furniture, expansive decks, large windows, kitchenettes & bathrooms. The style can be modern, rustic, or anything you can dream up. Our designer gets excited about unique projects. This company is driven by creativity and skill, from the owner to the designer to the carpenter.
Ready to Build?
With each build, the site visit and design process are thorough, and you will receive scale drawings of the whole concept before we quote the construction process. Interested in building one of these two models, but are you looking for more information? For a better idea, visit our portfolio page, where you can see the various examples of each type of build we have created over the years, for a better idea! If you're ready to start your building process today, call us at 610-696-1066 or email us at info@treetopbuilders.net to talk to a member of our sales staff who would love to help you make this summer the best one yet!