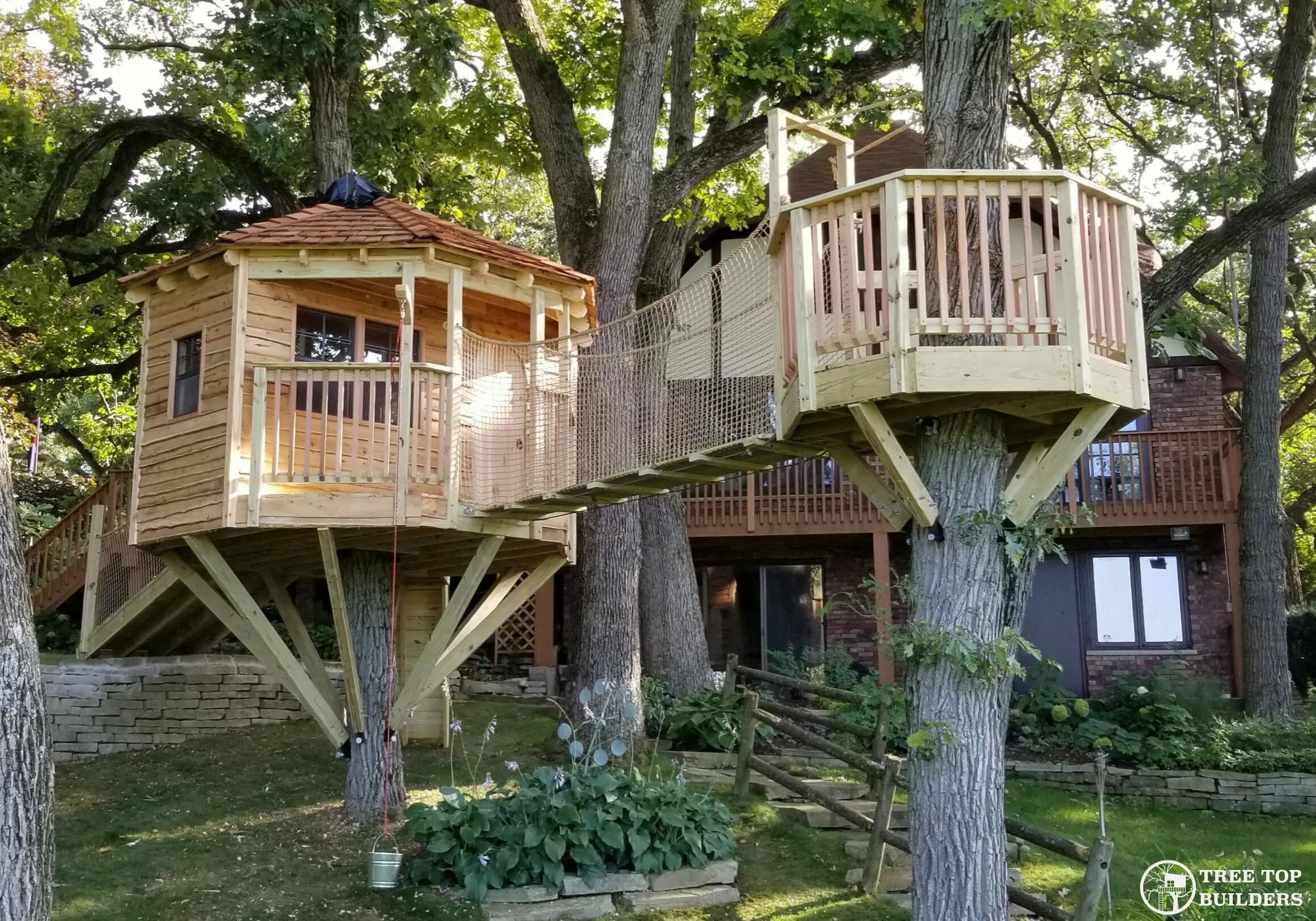 The Difference Between Custom Basic and Advanced Custom Treehouses
We've Built Them All!
At Tree Top Builders, we specialize in custom treehouses, ziplines, and other structures that can be attached to trees. With the variety of treehouses we have built, we are asked, "What is the difference between treehouses"? Building a treehouse can be difficult, especially when you don't know where to start. Luckily the staff at Tree Top Builders is happy to help you with every step of the process. This week's blog will answer the difference between our Custom Basic Build and Advanced Custom Build!
The Difference Between The Custom Basic Build and The Advanced Custom Build
Some of our Custom Basic Builds and Advanced Custom Builds may look similar, but they differ various ways. When it comes to the Custom Basic Treehouses, we take our standard build and bring them to the next level! With these models, we can travel further distances for the builds. Not only that, but our Custom Basic Builds tend to have additional features that create excitement! Customers can add firefighter poles, bucket pulleys, and more to their treehouse builds.
As for the Advanced Custom Builds, these take the Custom Basic Builds and enhance them even more! Our Advanced Custom Treehouses can be considered as high-end tree houses that have slightly more complex designs, use premium materials, are more finished looking on the outside, and can have multiple platforms and levels. These builds are not for commercial or overnight use, except in camping-style accommodations like sleeping bags in the loft or blow-up mattresses. Our Advanced Custom Built Treehouse projects are larger, often have multiple tree platforms, and may have some kind of lighting, finished interiors, bridges, multiple stories, or other more complex features.
Want to Learn More?
Interested in building one of these two models, but are you looking for more information? Visit our portfolio page, where you can see the various models we have created over the years! If you're ready to start your building process today, call us at 610-696-1066 or email us at info@treetopbuilders.net. A member of our knowledgeable sales staff would love to help you make this summer the best one yet!