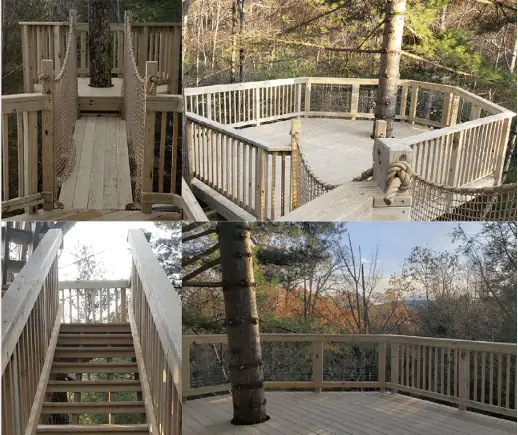 Well, folks, 2020 is finally over.
We at Tree Top Builders are making it our new year's resolution to show off a little more of our work in 2021. Let's start with some of the best treehouses of 2020!
The Best Treehouses of 2020 By Breakdown
Best Custom Deck of 2020
Our first custom build is a 16x20 two-part deck nestled 30 feet up in the trees! Cross over a rope bridge to the main deck and a beautiful view. There are many options and accessories that can customize your build.
Best Custom Treehouse of 2020
Our next treehouse is a beautiful 3-tree custom featuring a deck and bay window. Climb up the rope ladder or the stair ladder through the trap door to enjoy the space on the deck nestled amongst two trees. Climb up another level into the loft. Design and purpose make this treehouse fun for everyone! Check out our other advanced residential treehouses here.
Best Small Treehouse of 2020
Finally, our last treehouse gives you plenty of space for activities inside or out. Play on the swing below, relax on the deck or take a nap in the loft space.
This treehouse has all our favorite touches.
Tree Top Builders can help you make your imagination come to life. Click here to learn more about building your dream.
If you loved our best treehouses of 2020, we would love to help you get started on your own; contact Us Today.