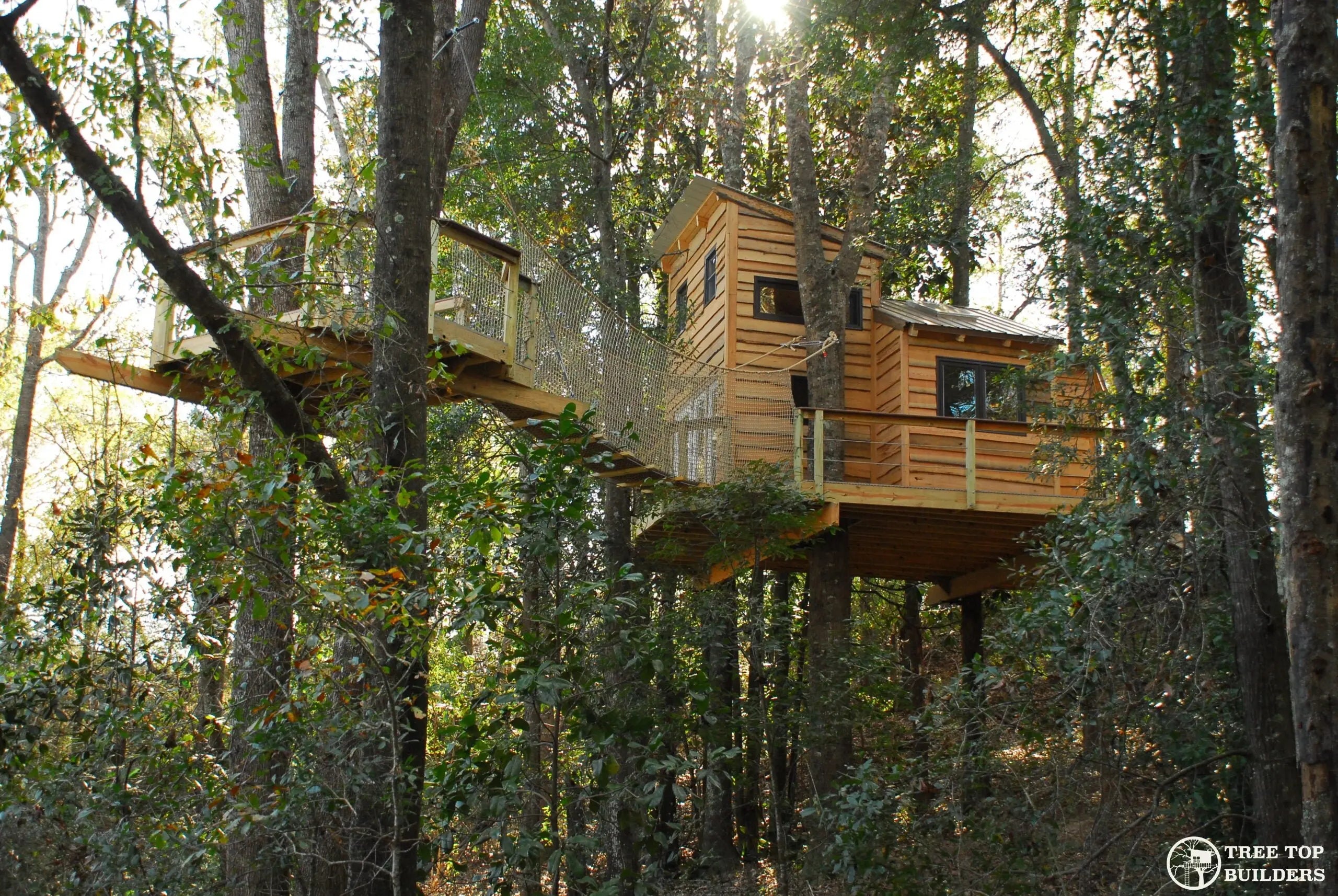 What it Takes to Build A Treehouse Home
Living in the Trees Became so Much Easier
As the saying goes, "Home is Where the Heart Is"! Why settle for something basic when you can enjoy the comforts of home in one of the most incredible destinations, a Treehouse Home! With fantastic engineering feats, permanently living in a treehouse has become much more accessible and an option many individuals are looking to take. In this blog we consider how to build a tree house home.

How to build a tree house home
Treehouses are now equipped with indoor plumbing, electricity, and more! How do we know? Thanks to our amazing customers, we have been able to travel across the country and build some fantastic treehouse homes! Our Rental and Retreat Treehouses tend to have more square footage and amenities to make it comfortable for guests to stay a while. Instead of cargo nets, slides, and fireman's poles, these tend to have furniture, expansive decks, large windows, kitchenettes & bathrooms. The style can be modern, rustic, or anything you can dream up.
The site visit and design process is thorough, and our customers receive scale drawings of the entire concept before we proceed to quote the construction process. Below are some additions you can make to your future treehouse home and some examples of what we have created!
What New Additions Can You Add to Build a Tree House Home
Electricity - There are multiple ways to add electricity to your treehouse home. For example, you can use generators or solar panels for a "greener" source of electricity. When adding electricity to your home, it is usually best to run utility connections along ramps and stairs, limiting the damage it can do to the tree.
Plumbing - Plumbing and sources for water come in various ways. For one of the customers, we used a rain barrel that collected water for the plumbing system, and for others, we supplied water through a trench at the start so that the water supply could run under the ramp to feed the treehouse.
Space for Common Areas - High ceilings, a loft, and several windows for natural lighting can add to the creative space inside the home. Consider using multiple, sturdy trees if you plan on building a bigger treehouse with various rooms!